Account Alert
If you are the owner or administrator of this site, please Login now for important account information.

Not involved in the administration of this site? Please disregard this message.Please Click here to dismiss this alert.
FREESERVERS IS A UNITED ONLINE COMPANY
Copyright © 2016 United Online Web Services, Inc. All rights reserved.
From Hollywood, (a tribute to) The Word Game Of The Stars...


Pics courtesy of Page O'Clips, TV Party!, Jared Rainer and David Livingston!
---
This updated 1971-1975 ABC Daytime version of the 1961-1967 CBS Daytime war of the words, hosted by The Professor Of Game Show Emcees, Allen Ludden, best known as Password, was the latest in a spate of retreads of old Mark Goodson-Bill Todman games (e.g. Whatís My Line?, To Tell The Truth, The New Beat The Clock, The New Price Is Right and Match Game 73), as well as the first G-T game to premiere first-run on daytime network TV since Snap Judgement made its bow on NBC in 1967; the 3 years prior to Password's debut, G-T rode high in syndication with first-run syndie revivals of their original fare, What's My Line?, To Tell The Truth and the aforementioned Beat The Clock. Here, new rules allowed a contestant to stay on the show as long as five days as long as he or she continued winning, and the winning team played the "Betting Word" after the "Lightning Round", wherein a contestant was offered a chance to risk any or all winnings on the ability to get his/her celeb partner to say the word in 15 seconds thereby doubling the bet. Another new twist added to ABC's Password was a Tournament of Champions, done to a small degree in the original '60s CBS version, in which the winner would return the next week to face the previous year's grand champion in a best-of-seven playoff for $10,000!
---
Password debuted at 4 P.M. (EDT), Monday afternoon, April 5, 1971, on ABC Television (replacing its six-year-old Gothic soap opera with a huge cult status, Dark Shadows), with Elizabeth Montgomery (Bewtiched) and Bill Bixby (The Courtship of Eddie's Father), launching the premiere week. Native Californian Judy Spicer, decked out in lavender 1971 hot pants, drew whistles on every partner change and rolled up $2,400 before retiring at the end of the first week undefeated. ABC's Password was popular enough to inspire a December 1, 1971 episode of The Odd Couple (ABC, 1970-75), in which Mr. & Mrs. Password, Allen and Betty White Ludden appear as themselves, and Felix Unger (Tony Randall) and Oscar Madison (Jack Klugman) become contestants on Password, but they don't seem to make a very good team. (Note: The Password set in the episode was a mere mock-up which did not take after the actual Password set for it was taped in Los Angeles whilst The Odd Couple was situated in New York City.) Betty White and Let's Make A Deal host Monty Hall guest-emceed on separate occasions when Allen Ludden appeared as a panelist.
---
After a couple of years, the old format had begun to stagnate, and on November 18, 1974, Password All-Stars, with only celebrities playing for charity, commenced. The main game now had a new "double" rule (a player was given the choice of going for double points by trying to get his/her teammate to say the password on one clue) and before the main game was a new jump-in elimination round. Replacing The Lightning Round was a new 20/20 Password Round, which added points to a celebrity's total. But like the old saying "too many cooks spoil the broth," too many stars spoil the game, and contestants were reinstated in yet another revamped edition of Password on February 24, 1975. The elimination round played before the main game and the "double" rule remained, only now a 3-step lightning round was used in the bonus game. Nothing worked, however, and the show was dropped on June 27 to make way for the Bobby Van-hosted Showoffs, another Goodson-Todman game. An approximate total of 1,099 episodes were produced for Password on The American Broadcasting Company. (I recently happened upon a picture which shows Allen Ludden on the ABC Password set celebrating its 2000th broadcast! They more likely added onto the 1,555 episodes of the original 1961-67 CBS Daytime version.) Happily, shortly thereafter, Allen Ludden was awarded an Emmy for Outstanding Game Show Host for Password (his only one!), just as Password itself won an Emmy for Best Game/Audience Participation Show.
---
Nowadays, Password has the biggest profile on Game Show Network, with continuous repeats of the original 1966-67 color CBS Daytime (and 1962-65 B&W CBS Primetime) edition, and the 1979-82 (Password+Plus) and 1984-89 NBC Daytime editions (Super Password). Unfortunately, the 1,099 episodes of the '71-75 ABC Daytime version (along with the B&W CBS daytime edition) aren't in this rotation, as ABC, in a sort of "recycling" endeavor, erased the videotapes containing them for reuse (undoubtedly for the purpose of recording later Goodson-Todman games for The Alphabet Network, namely Family Feud and The Better Sex). As a tragic consequence of this, a few surviving copies of ABC's Password ever exist anymore: 8 prints in the UCLA Film & TV Archives (including one on the Friday of the premiere week!), 3 copies in the trading circuit (one Password All-Stars and 2 episodes of the original run, including the finale), and I'm not sure, but The Museum Of Television & Radio may have a handful, too. (Why Goodson-Todman never bothered to make spare copies for the network [to air and dispose of as they saw fit] and keep originals for themselves is a mystery to me...) Added onto the anguish is the fact that, unlike its 1960's CBS predecessor, ABC's Password failed to generate a weekly primetime spinoff, either for network or syndication!
---
Hence, my creation, The ABC Password Page, my tribute to the lost 1971-75 ABC Daytime revival of the Goodson-Todman game show. It's got everything ABC Password: pictures, sounds, info, and links to other pages related to Password on ABC and beyond. I recently completed an archive of Celebrity Guests which will tell folks exactly when your favorite celebrity played Password on ABC! So enjoy, because, unless some "hoodwinking executive" is "hoarding the shows in some hidden vault to be trotted out as 'lost' episodes in a future year" (as Steve Beverly reported), or unless a time machine is invented so you can go back in time with a TV and VCR to record and retrieve copies of Password on ABC from the past, this is as close to watching repeats of ABC Password you'll ever come!
---
SPECIAL UPDATE!
Great news! GSN - The Network For Games (Game Show Network) has deeply probed into the vaults, found whatever episodes of ABC Password have survived and placed them back on the air! Early Monday morning, September 11, 2006 @ 3:00 AM (EDT), an installment from Week 133 (October 22, 1973 to October 26, 1973) featuring Jack Klugman and Brett Somers was seen. (It was rumored that the June 27, 1975 series finale would be shown as well.) So it's a comfort that even this ABC Password episode has survived in one way or another. Let's hope more will be shown!
---
PACKAGER:
Mark Goodson-Bill Todman Productions, Peak Productions
BROADCAST HISTORY:
ABC Daytime. April 5, 1971 ó June 27, 1975.
1,099 Episodes In Color On Tape.
Monday-Friday 4:00-4:30 PM ET (April 5 - September 3, 1971)
Monday-Friday 12:30-1:00 PM ET (September 6, 1971 - March 17, 1972)
Monday-Friday Noon-12:30 PM ET (March 20, 1972 - June 27, 1975)
ORIGINATION:
ABC Television Center, Los Angeles
Vine Street Theatre, Los Angeles
HOSTS:
Allen Ludden
GUEST HOSTS:
Monty Hall, Betty White
ANNOUNCER:
John Harlan
---
ABC PASSWORD PRODUCTION STAFF
*
A MARK GOODSON-BILL TODMAN PRODUCTION
*
producer HOWARD FELSHER
directed by STUART W. PHELPS
creative consultant for Goodson-Todman TED COOPER
associate producers LES SINCLAIR, CATHY HUGHART
art director HENRY C. LICKEL
talent coordinator KAY HENLEY
contestant coordinator JOYCE STEVENS
production asistants CAROLYN METIVIER, ALLEN KOSS
program staff JOEL LAWRENCE, ROZ DOYLE, ROGER SPEAKMAN, CINDY CURTIS, JEFF NAGLER
music by SCORE PRODUCTIONS, INC.
associate director TED BURSTEIN
unit manager LANCE B. TAYLOR
technical director WALLY STANARD
lighting director JIM DU BOIS
audio BOB MILLER
senior video GUY TYLER
cameramen JAN LOWRY, BARRY KIRSTEIN, JON LEE, BUD HOWLAND
stage managers JENNIFER COBB, ED DUZIK
contestant supervisor BUD UNTIEDT
videotaped at ABC TELEVISION CENTER in Hollywood
---
1971-74 ABC Password Theme
1974-75 ABC Password Theme (introduced on Password All Stars)
Open and close for a 1972 telecast of ABC Password which finds Allen Ludden plugging Split Second, next. (courtesy of More ABC Promos Yahoo! newsgroup)
Complete 1974-75 ABC Password Theme, enhanced with drum solo and intro. (courtesy of T.Q.ís NEW Gameshow Sample Themes Page)
Full Password All Stars Commercial Vamp (courtesy of T.Q.ís NEW Gameshow Sample Themes Page)
1971-74 ABC Password Theme as heard on TV
Higher-quality, artificially-extended 1974-75 ABC Password Theme
Cold Open to the 2/21/1975 Password All Stars Grandmaster Tournament episode (courtesy of tvthemesonline.com [now inactive!])
Opening from the third week of the re-revamped Password on ABC in March 1975 (courtesy of Danny Voisine)
Opening from the June 27, 1975 series finale of Password on ABC (courtesy of Danny Voisine)
---
THE ABC PASSWORD CELEBRITY ARCHIVES
See when your favorite celebrity played Password on ABC!

---
ABC PASSWORD-RELATED LINKS
OVERALL PASSWORD-RELATED LINKS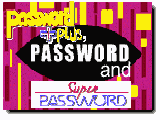 Ranger Ian's All Kinds Of Password! Page


Brandon Devers and Jay Smith's password-plus.com Page
---
THE ABC PASSWORD GUESTBOOK

The Original ABC Password Guestbook Archives
Sadly, the original GB for this page has filled its quota. But you can still click
above to read all the entries of the past 5 years!
HERE'S ANOTHER ABC PASSWORD GUESTBOOK!


The Password is..."View"
The Password is..."Sign"

---
This page was established Wednesday, July 26, 2000, and last updated on Thursday, May 7, 2009.
Conceived, edited, researched, cross-checked and written by Aaron Handy III.
All pictures used within this site are of my own scans unless otherwise credited.
Portions and pictures excerpted from The Encyclopedia of TV Game Shows, First Ed., by David Schwartz, Steve Ryan and Fred Wostbrock. © 1987 New York Zoetrope. All Rights Reserved. Broadcast schedules courtesy of The Encyclopedia of Daytime Television by Wesley Hyatt (Watson-Guptill Pubns.; ISBN: 0823083152; October 1997).
This particualr version of Password © 1971-75/2004 Peak Productions, The Password Company, The American Broadcasting Company, Mark Goodson-Bill Todman Productions, Mark Goodson Productions L.L.C., and FreemantleMedia.
All rights reserved. This site is non-profit and is intended for entertainment and TV research only; the images and sounds used on this website are believed to be in the public domain or fall within the boundaries of the US Supreme Court's Fair Use Act.
---


Back To The Aaron Handy III TV Web Shrine